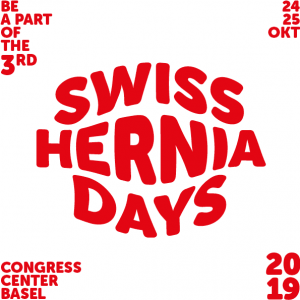 Swiss Hernia Days 2019
With great pleasure we are looking forward to the 3RD SWISS HERNIA DAYS at the 24TH—25TH OCTOBER 2019 in the CONGRESS CENTER BASEL, Switzerland. During the 1ST and the 2ND SWISS HERNIA DAYS in 2017 and 2018 many national and international hernia experts and more than 270 participants followed our invitation to Basel each year. With the last congress mottos "challenges and innovations in ventral hernia repair" and "controversies in guideline-conform therapy of inguinal hernias" participants were updated with innovations and current concepts in the field of hernia surgery. Also, for the first time the Swiss Hernia Days International Fellowship was awarded.
The 3RD SWISS HERNIA DAYS are again deemed to be the ideal Swiss platform for professional exchange between national and international participants and hernia experts. This time, the core topic will be "Interdisciplinary aspects of hernia surgery". Beside interactive discussions, the famous Championsleague, "Hernia Speed Dates" and state-of-the-art lectures, live-surgeries will again be broadcasted. And finally, of course we will prepare an interesting networking event, which will surprise you
The national and international value of the SWISS HERNIA DAYS is emphasized by the patronage of the Swiss Association for Hernia Surgery (SAHC), Swiss Society for Visceral Surgery (SGVC), the Swiss Collaboration for Laparoscopic and Thoracoscopic Surgery (SALTC), the European Hernia Society (EHS) and the German Hernia Society (DHG).
We are inviting you to participate in the the 3RD SWISS HERNIA DAYS at the 24TH—25TH October 2019 in Basel, Switzerland. Be part of the SWISS HERNIA DAYS!
SWISS HERNIA DAYS 2019
24—25 October 2019
website